The last nine months or so have seen four new one day contact lenses arrive in the New Zealand market, so choices for wearers have never been greater. One day lenses have always been a great option in terms of convenience, hygiene and reducing allergy problems but they haven't been great in terms of oxygen transmission (lagging way behind the fortnightly and monthly options), they aren't available in as wide a range of prescriptions and they aren't always as comfortable as we'd like.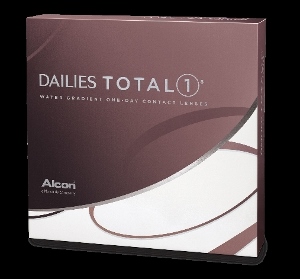 As optometrists, we're excited to have some great new options, so we thought we'd use our next few blog posts to tell you about them. This post is about the most recent arrival, Alcon's Total 1. Total one lenses are made of a revolutionary new material with a silicon hydrogel core for excellent oxygen transmission, and a high water content outer for supreme comfort. Promoted as "like wearing nothing at all" this lens is an exciting option for our shortsighted patients - long-sighted wearers will have to wait a little longer.
So if you're looking for improved comfort, or you or your optometrist are worried about you wearing your existing one day lenses for very long hours, this could be lens for you. And if you're wearing fortnightly or monthly lenses but think you'd enjoy the convenience of 1 day lenses,
make a time
and come and see us.