We are very excited about the latest progressive lens technology from Essilor! Essilor X Series is a game changer for presbyopes and we aren't saying that lightly. With more than fifteen patents pending, this is a lens like no other.
Essilor X Series uses three separate types of technologies to provide you with dynamic and clear vision at every distance but is especially designed for those people who require wide and variable near and intermediate vision. Xtend Technology focuses on arms-length tasks and offers clear and natural focus from your desk to your fingertips without requiring major head movements, unlike previous progressive lenses. Nanoptix means that the 'swim' effect in your progressive lenses can be minimised by up to ninety percent which means that the lenses are easy to adapt to and feel natural to use. Synchroneyes technology makes this lens fully customisable; considering not only your prescription but also all of your facial measurements and frame parameters. This will widen your field of vision and ensure that your lens is a perfect fit for YOU.
We are increasingly relying on our near vision but this isn't just for reading your cell phone! Essilor X Series uses all this technology to give you the clearest vision for all near requirements; cell phones, laptops, books, computers, even TVs, with the need for head movement drastically reduced.
These lenses also come with Crizal Sapphire UV. which is the latest in anti-reflective technology-This makes the lens virtually invisible. Crizal Sapphire UV has an E-SPF rating of 35, so not only are you seeing clearly, you are protecting your eyes from harmful UV rays every time you are outside.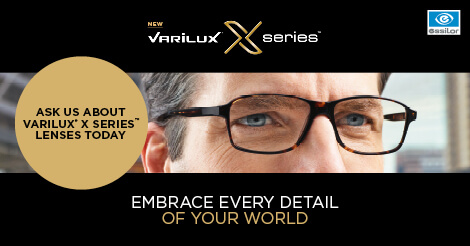 We are hearing some amazing feedback about this lens and would love to talk to you about it. Just pop in to speak to one of our Dispensing Opticians at either of our branches to see if this lens could be the right lens for you.